My Bands and Projects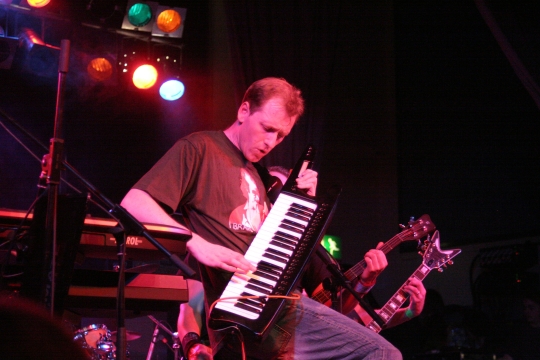 As you may notice from this ... hmm ... interesting picture I am (mainly) playing keyboards.
Current Bands and Projects
mossifier
mossifier is my solo project. The musical style of the project is electronic, somewhere between EBM and synth pop, but his other influences shine through, be it some heavy guitars or even a floydish prog solo section chiming in.
Arilyn
Arilyn plays a mixture of progressive, melodic and classic rock since 20 years.
Individual Totem
Electronic Music with Synthesizers and Computers.
The Krauts
Musik mit Liebe - Liebe mit Musik
EK-Lounge
An ambient music fun project in which I participate from time to time.
Former Bands and Projects
audiogolem
Improvised groovy electronic music.
Dean
My former band which I quit at the end of 1998.
Spiegel & Die Aliberts
A really funny and crazy band which was playing rock with german lyrics.
EISKALT
This was the first band I was playing in. You can now take a look at the complete list of the gigs with lots of funny photos and critics (pages are in German).